About Me
Hello!

My name is Sam Dhiman and I have 25+ years
of experience in the construction and handy man industry

8+ years of experience in performing home inspections
i have performed over 2000 home inspections and counting
Choosing the right inspector can be almost as important as choosing the right home.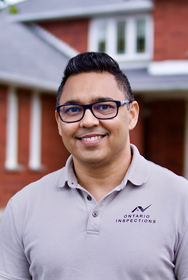 I am the president of Ontario Inspections Inc. When you hire me to inspect a home for you, I inspect that home as if I were inspecting my own home.
I will deliver a professional inspection service that you will surly want to tell all your friends and family about. I am an associate member of the Canadian National Association of Certified Home Inspectors, and not only have I completed the mandatory educational requirements, but continue to dedicate time to my on-going training and education. This way I can ensure that I always have the latest information and techniques which will enable me to better serve you as my client. In addition, I follow the Standards of practice and code of conduct set out by InterNACHI and CanNACHI associations. I take great care to provide my clients with as much information as possible so your decision to buy can become much less stressful.
Many homes, even the new ones, have some defects that might go unnoticed to the untrained eye, but a skilled home inspector has the required training and experience to look for signs of specific issues and defects in your home. These issues and defects, if not noticed and corrected prior to closing date, can end up costing the home buyer thousands of dollars in repair bills.
---
When you choose Ontario Inspections Inc. to inspect your home, or the home you are considering purchasing, there's no waiting for a written report that some competitors offer. In fact, on the same day of your inspection, you will receive a customized digital home inspection report (PDF) within one hour of the inspection performed. This report is generated from the most detailed, and client friendly reporting system in the industry. This report, approximately 40-60 pages in length, will outline all the necessary information you will need - including a detailed "Big Picture" page.